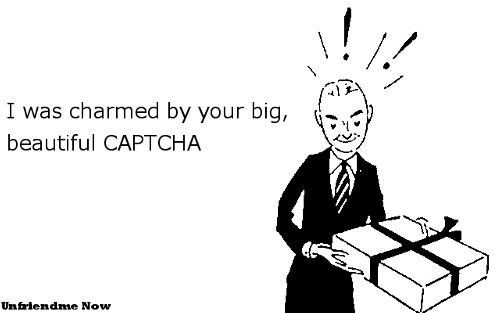 Dear %Internet Marketing Professional%
No matter how many times you try to woo me with your "Dear %Name%'s" and "Most Gracious Webmasters," I will never believe that this one time deal is really for my eyes only. I don't even remember how we met, it must have been during one of my late night networking sessions, I still can't believe I was charmed by your Special Offers and that big, beautiful CAPTCHA of yours.
I was weak, I know.
Even so, I am stronger now and ready to take hold of my life. Unfortunately, that means leaving you behind. Your weekly IE 6 optimized, white-listed, dual-encoded messages have brought so much joy to my life over these past few months but things are different now and I'm going to have to find my way without you.
Don't take this too badly, I am sure we will meet again. It seems that every time I surf the web, fueled by nothing more than Red Bull, Triple Sec and Dreams that a few days later we cross paths. Our lives seemed intertwined. Even so, for now, I have to ask you to remove me from your list and please, please stop sending me your beautiful, terrible newsletters — I just can't take the pain of remembering.
Remembering the fact that I am not really your friend and really, I never was.
Get your own Unfriend-o-gram before it's too late