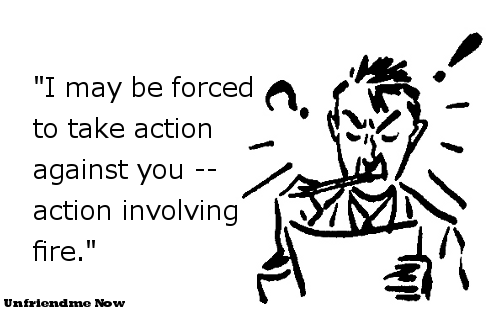 Dear Former Friend
It has come to my attention that you have abused my friendship on several social networks / social media sites across the web. You are receiving this letter because of your crimes against good taste, professional ethics or the overall indecency of your communication (your "Trollyness"). Overall, your presence in my online community has frustrated me to the point of action.
While it is possible that I may be over-reacting, we live in busy times and as such, I have made the difficult decision to remove you completely from my digital life. As exclusive rights holder to my digital persona (my "Life") , I am removing all rights and privileges stated or implied to keep me as a friend, "buddy," "follow" or any friendship proxy that currently exists or will exist in the future.
I demand that you immediately cease all communication within the scope of my Life, and all copies of my identity be blocked or removed from any and all networks on which they may exist now. I also request that you desist from this or any other "friending" behavior in the future. If I have not received an affirmative response from you in two weeks indicating that you have fully complied with these requirements, I may be forced to further action against you — action involving fire.
Very truly yours,
Get your own Unfriend-o-gram before it's too late